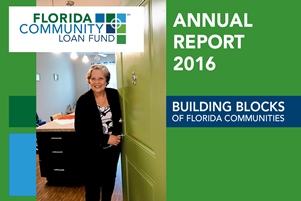 com·mu·ni·ty \kə-ˈmyü-nə-tē\
– A group of people who live in the same area (such as a city, town, or neighborhood).
– Webster's Dictionary
---
At Florida Community Loan Fund, we believe that communities are more than simply people coexisting. A community's character is also defined by its components – housing, schools, healthcare, grocery stores, and local businesses. Within these built spaces, families find shelter, seniors and veterans secure affordable housing, children and families have access to healthcare, and our neighbors and neighborhoods find opportunity.
In our 2016 Annual Report we share how FCLF, working alongside our investors and borrowing partners, is producing real solutions for the specific needs in Florida – providing building blocks to help communities. Together we will continue to offer opportunity and dignity for every person and community in Florida.
​
Together we provide the building blocks of Florida communities.
Read the annual report online here.
Download a pdf here.
View video testimonials from Florida Community Loan Fund's borrowing organizations. Their success stories are building Florida's communities. Click on the photos below to watch the videos.