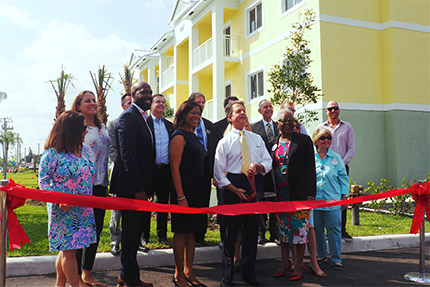 On March 5, 2020, a ribbon cutting ceremony celebrated the grand opening of Mango Cove Apartments in West Palm Beach, Florida. This 36-unit complex was developed by Neighborhood Renaissance, and provides new, affordable housing that is within the financial reach of low- and moderate-income working families.
The new development transforms this difficult to develop 8-acre parcel, which contains a lake and 2 acres of land located in the county's Urban Redevelopment Area into an attractive residential community central to schools, transportation, employment, shopping, services and recreation facilities. Since the destruction of 40 apartments by the 2004-2005 hurricanes, the site had been an eyesore to the surrounding neighborhoods. Mango Cove replaces the lost apartments with energy-efficient 2-bedroom, 2-bath quality homes with monthly rents well below market rates. The homes will remain affordable for future generations through a 30-year deed restriction enforced by Palm Beach County.
Florida Community Loan Fund provided $4.8 million in financing for land acquisition, construction, and permanent financing. The $8.6 million project also received support from Palm Beach County, Wells Fargo, the Community Foundation for Palm Beach and Martin Counties, and TD Bank Foundation.
Florida Community Loan Fund has been a community development financing partner with Neighborhood Renaissance since 2003. Learn more about our partnership in this Success Story and in FCLF's 2018 Annual Report (online version or PDF).
View more photos of the Mango Cove grand opening and construction progress on FCLF's Flickr album here.
Additional information:
Mango Cove ribbon cutting announcement and media alert from Neighborhood Renaissance
WPTV News, Mango Cove Apartments: New low- and moderate-income rental units open in Palm Beach County