The theme of our 2022 Annual Report – Opportunity – resonates across several levels.
As an industry, Community Development Financial Institutions, or CDFIs, saw unprecedented levels of support during 2022. Nationwide, our collective work made a meaningful impact in addressing the economic dislocation brought on by the COVID-19 pandemic. Similarly, our decades-long effort to address systemic racial inequalities came into sharp focus over the preceding two years, resulting in a robust response and renewed commitment by the CDFI industry to continue to advance racial equity. The work of CDFIs was noticed by investors, who significantly increased capital into CDFIs. As importantly, the Federal Government, with rare bipartisan support, created new resources to support CDFIs in their work, allocating record levels of assistance to our industry.
As a CDFI, Florida Community Loan Fund responded to new opportunities that significantly strengthen our ability to deliver capital in ever innovative and impactful ways – ways that all further FCLF's mission and improve how capital flows into the Florida communities with the greatest need for investment. Along with our CDFI peers in Florida, we are committed to securing these unique resources for the Sunshine State. During a year where more Florida CDFIs than ever received funding from the CDFI Fund, FCLF was in the top tier of awardees under the CDFI FA competition; we also received the highest level of funding from the Rapid Response Program, which was based on historic lending volumes. Finally, FCLF capped off 2022 with news that it had been selected to receive an award from the CDFI Fund's Capital Magnet Fund program. This last grant award, the largest ever in FCLF's history, allows us to provide capital to support affordable rental housing development with better rates and more flexible terms than we've been able to do in the past.
Finally, and most importantly, choosing the theme of opportunity is a reminder to us and to our many stakeholders of what is most essential for FCLF. Our Core Purpose statement reads:
...to maximize opportunities for people and places outside the economic mainstream.
Everything we do revolves around this core purpose. Maximizing opportunities takes on many forms. We maximize housing opportunities for low-income Floridians in many ways, from financing affordable housing efforts for Florida families seeking a first home, or more affordable, safe and quality rental units, or even to support places for formerly homeless families and individuals to call home. Our community facilities work expands the availability of youth and educational services, affordable healthcare and behavioral health, food access and a variety of other services, which individually and collectively improve opportunities for low-income Florida families, seniors, veterans and youth, while also giving a fighting chance to neighborhoods and communities long subject to disinvestment and neglect to become places where both the individual and the community flourish.
In this report we share success stories from projects financed this year – some large, some small – some rural, some urban. These important projects represent just a few from FCLF's portfolio. We also revisit borrowers from years past, to highlight projects that are now up and running, providing opportunity in their communities. We are proud to be a part of all these FCLF financed projects.
We give thanks to our many investors and supporters, whose patient capital allows us to continue to deliver these opportunities. We also give thanks to the many organizations who entrust their financing needs to us. FCLF's borrowers are not simply our clients. They are our inspiration, working in local communities to address, with tenacity and resolve, and with ever increasing capacity, the many challenges our communities face.
We look forward to a very productive 2023 and beyond, propelled by the advancements that were made possible during 2022.
Everything we do revolves around our Core Purpose, which states:
"... to maximize opportunities for people and places outside the economic mainstream."


Ignacio Esteban
CEO

Claire F. Raley
Board Chair
---

Miami-Dade is Florida's most populated county, with more than 2.7 million residents. The county is home to beautiful sandy beaches and expansive, lively metropolitan areas in the east, contrasted by the Everglades and large stretches of farmland to the west. Generations of families are deeply rooted in Miami-Dade, and thousands more relocate here each year.
Miami's vibrant concentration of people, activity, and industry creates a high demand and inadequate supply of housing. With high housing costs, the city of Miami is ranked as the US' least affordable place to live, a title it has held for many years. Miami-Dade has a deficit of over 100,000 affordable and available units for low-income households. In June 2022, the city experienced the highest year-over- year rent increase in the nation, up 37.4% from the previous year.
Imbalances in opportunities manifest across income levels and vary greatly among race and ethnicity. Approximately 64% of both Hispanic and Black renter households are cost burdened – spending more on housing, with less left over for other basic needs like healthy foods, safe and reliable transportation, and quality healthcare. Affordable housing shortages coupled with inadequate and inequitable access to critical services like healthcare and education threaten the livelihood of people, families, and communities.
Florida Community Loan Fund's core mission to maximize opportunities for low-income people and underserved communities is more important than ever. Since 1997 our financing of high impact projects throughout the county has grown to over $145 million dollars, producing over 1,300 homes and serving over 89,000 people through community facilities. Below are a few of our stories from Miami-Dade County, providing opportunities for people and families to secure affordable housing and gain access to quality healthcare and youth and family services.
---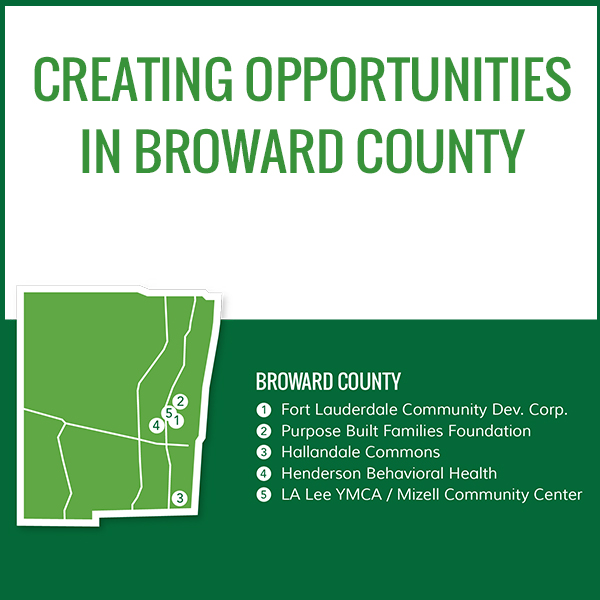 At the center of South Florida sits Broward County, a demographically and geographically diverse county with over 2 million residents. With the Atlantic seashore to the east and conservation wetlands to the west, Broward is the second most densely populated county, rich in culture and history. In the mid 20th century, transportation, tourism, and trade industries led to a huge population growth. Today, Broward County continues to draw in those seeking new opportunities in life and leisure.
While Broward continues to grow in population and diversity, the county's supply of affordable housing has not kept pace with demand. Since 2020, an influx of new residents, increased costs for construction materials and labor, and rising inflation have caused median home prices to increase 56%, and rents to increase 42%. This has pushed low-income families further into financial hardship. Broward County now has the second highest deficit in Florida of affordable housing at or below 80% AMI.
Equity gained through homeownership, a pathway to build wealth for so many individuals and families, has been historically less achievable for people of color in Broward County. Currently, only 53% of households of color are homeowners, compared to 72% of white households. Like so many other communities across Florida, Broward County households of color have lower median incomes than white households. – on average, Hispanics earn 13% less and Blacks earn 33% less than white households.
FCLF has financed projects across Broward County, creating more opportunities for communities of color and low-income people to secure safe, affordable rental housing, build wealth through homeownership, and gain access to quality healthcare and education services. Through June 2022, FCLF lending in Broward County reached $43 million producing over 2,500 homes and serving over 4,500 people through community facilities. Below are stories of FCLF-financed projects in Broward County providing opportunities in historically Black communities for affordable housing, Veterans' housing, youth and community services, and behavioral health.
---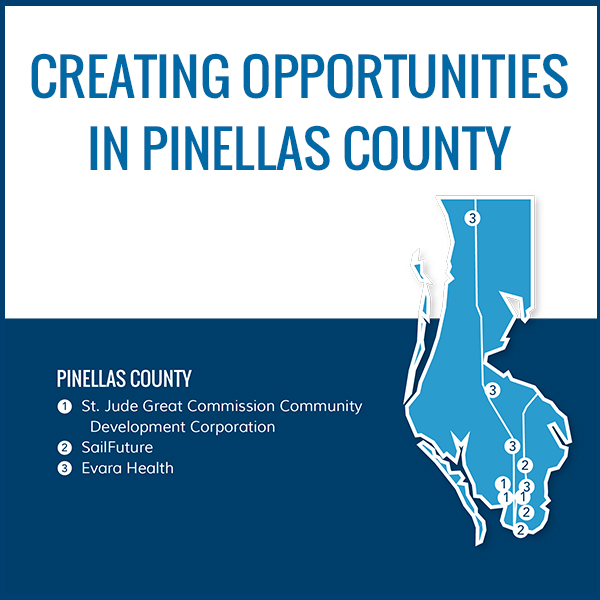 Nestled between the Gulf of Mexico to its west and Tampa Bay to its east, Pinellas County is Florida's second smallest county by land area, but the most densely populated with over 3,500 people per square mile. Beachside communities, abundant wildlife, professional sports, and year-round moderate weather draw both residents and visitors to Pinellas. The county has been a tourist destination since
the late nineteenth century and continues to grow in popularity, with more than 20 million visitors last year. Lodging and accommodations on area beaches contribute over $4 billion to the county's economy, and tourism employs 1 in 10 people.
In Pinellas County the average wage in the tourism industry is $12 per hour, in contrast to the living wage of $17.71, creating a workforce of severely cost-burdened residents. In addition to low wages associated with tourism jobs, many in these positions are either not offered employer-paid benefits like healthcare coverage, or it is too expensive to afford with limited incomes. Lower income individuals and families rely on nonprofits and community organizations to secure healthcare, education, and other goods and services and those providing opportunities to overcome barriers to stable, fulfilling lives.
FCLF provides affordable capital to nonprofits and mission-focused organizations across Pinellas County, creating opportunities for low-income communities and underserved populations to secure aordable housing and gain access to quality healthcare, education, and other community services. FCLF financing in Pinellas County reached $53 million as of June 2022, producing over 500 homes and serving over 26,000 people through community facilities. Below are examples of FCLF-financed projects in Pinellas County, including affordable homeownership, education and foster care, and healthcare services.
---
Today, over 21.5 million people call Florida home, and tens of thousands more are moving to the state every year. Since the onset of the COVID-19 pandemic, Florida's population has grown by nearly 300,000 people – the second largest increase in the US – skyrocketing demand and exacerbating our state's existing high housing cost market. With more than 2.1 million cost-burdened low-income households, including over 1 million severely cost-burdened very low-income households, individuals and families struggle to afford basic necessities and are unable to build wealth to secure a future for themselves and their families. Households of color are more likely to be cost-burdened, at 45%, compared to just 29% for white households.
Florida Community Loan Fund maximizes opportunities for low-income communities and people of color across the entire state of Florida. Since 1996 we have provided over $560 million to finance the development of affordable housing for renters, homebuyers, and those in supportive housing, and community facilities for healthcare, youth and education, healthy food access, and economic development projects. Through our financing, over 6,800 units of housing have been created in Florida low-income communities, and over 1.35 million low-income people have access to essential social services annually.

$560 Million
financed

6,822
housing units
168
community facilities

18,098
jobs created or retained

1,357,257
Floridians reached annually with services
Summary Statement of Financial Position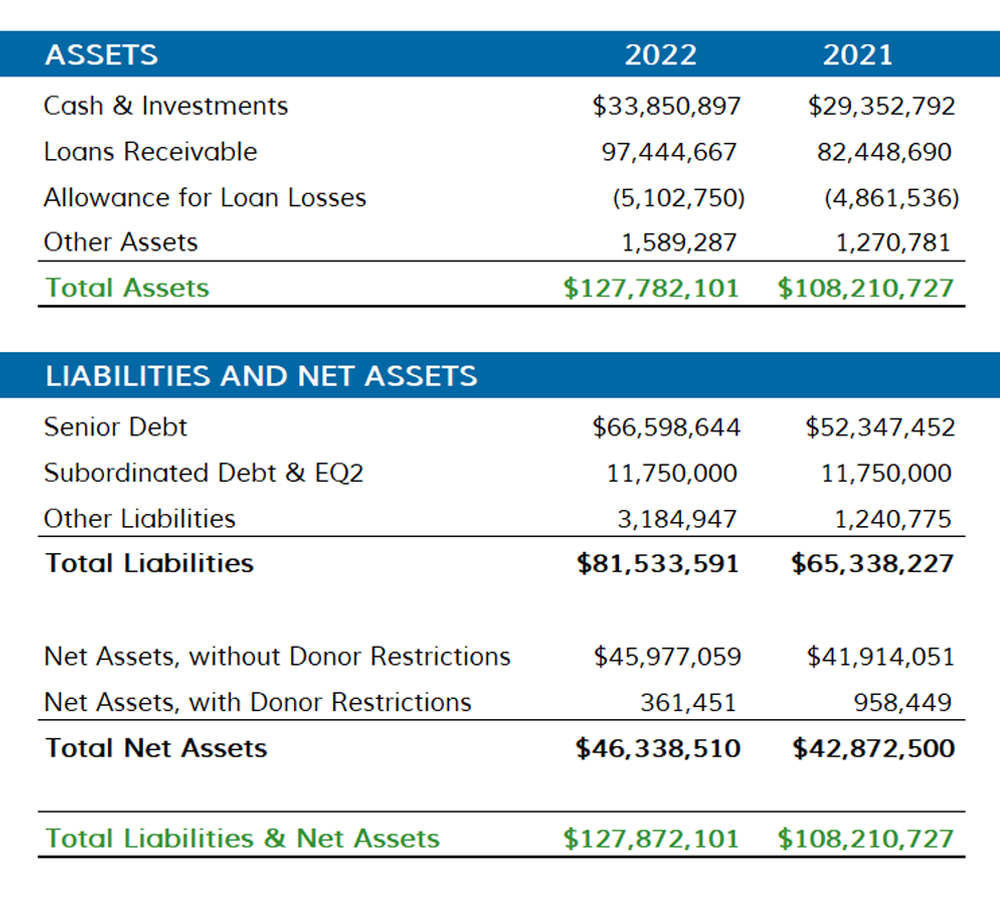 Summary Statement of Activities
Loan Portfolio by Sector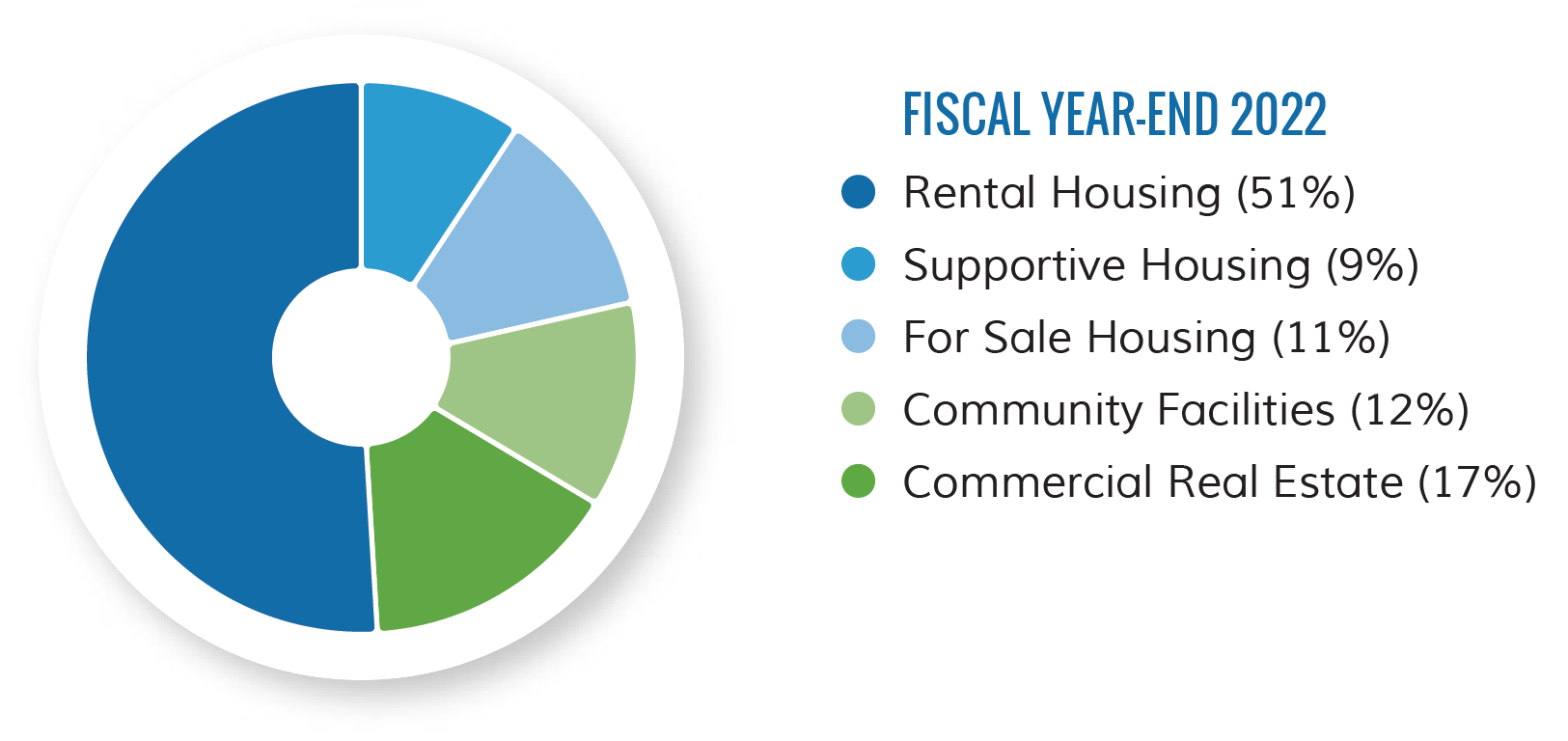 Summaries based on 2022 Audited Financial Statements.
Religious Organizations • Adrian Dominicans • Archdiocese of Miami • Dignity Health • Diocese of Palm Beach • Diocese of Venice • Mercy Partnership Foundation • Oblates of St. Francis de Sales • Our Lady of Victory Missionary Sisters • Religious Communities Impact Fund • Religious of the Sacred Heart of Mary • School Sisters of Notre Dame (Maryland)• Sinsinawa Dominican Sisters • Sisters of Charity of Nazareth • Sisters of Charity of St. Elizabeth • Sisters of Providence • Sisters of St. Francis of Philadelphia • Sisters of the Blessed Sacrament • Sisters of the Holy Names of Jesus and Mary • Sisters of the Sacred Heart of Mary • Trinity Health • Union for Reform Judaism
Financial Institutions and Corporations • Amerant • Banesco USA • Bank of America • BankUnited • BBVA Compass • BMO Harris Bank • CIT Bank • City National Bank of Florida • Comerica Bank • Fifth Third Bank • First Horizon Bank • First Republic Bank • Florida Capital Bank • HSBC Bank USA, NA • Northern Trust • PNC Bank • Raymond James Bank • Regions Bank • Sabadell United Bank • Santander Bank • Seaside National Bank & Trust • SouthState Bank • Synovus Bank • TD Bank • Third Federal Savings & Loan • TIAA Bank • Truist Bank • Trustco Bank • United Community Bank • US Bancorp Community Development Corporation • US Bank, NA • Valley Bank • Wells Fargo Bank
Foundations • Bank of America Foundation • Erich and Hannah Sachs Foundation • The Father's Table Foundation • Health Foundation of South Florida • JPMorgan Chase Foundation • PNC Foundation • TD Charitable Foundation • Wells Fargo Foundation
Nonprofit Organizations • Good to Grow Fund • Miami Homes for All • Opportunity Finance Network
Government Agencies • Community Development Financial Institution (CDFI) Fund of the U.S. Department of the Treasury • Florida Department of Agriculture and Consumer Services, Division of Food, Nutrition and Wellness
Individuals • G. Dawson • M. & V. Simmons
Includes investors and supporters for the past three years.
Claire Raley, Chair. Senior VP, CRA/Community Development Officer, BankUnited, N.A.
Marilyn Drayton, Vice Chair. Community Relationship Sr. Manager, FL and SE Region, Wells Fargo Bank
Judith Rimbey, OP, Treasurer. Business Office Assistant, Cardinal Newman High School
Victor Rivera, Secretary. Senior VP, Senior Relationship Manager, Business Banking, Bank of America
Tina Brown, CEO, Overtown Youth Center
Ana Castilla, Vice President, Community Development Manager, TD Bank
Ernest Coney, Jr., President & CEO, CDC of Tampa
Jack Humburg, Chief Operating Officer, Boley Centers, Inc.
Annie Neasman, President and CEO, Jessie Trice Community Health System
David R. Punzak, Esquire
Germaine Smith-Baugh, President and CEO, Urban League of Broward County
John Talmage, Director, Lee County Economic Development Office